Quality Yarns are produced on Quality oriented machines. Keeping this in mind, Sharman has state - of - art machinery with Stretch Breaker from
Seydel, - Germany, Preparatory from NSC - France, Ring frames from Zinser - Germany & Sanmarco - India (Italian Technolgy), Auto coner from Schlafhorst - Germany & Savio - Italy and Continuous Shrinking machine Volufil from Savio - Italy to name a few. From the list. It can be seen that Sharman has World Class machinery from the world's best manufacturers.
DYEING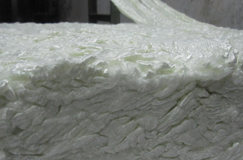 H.T.H.P Dyeing Machines From Dalal for Acrylic Tow dyeing with capacity of 400 kgs. per bath.
Dapang Korean Spray Dyeing Machines For Hank dyeing with dyeing lot sizes of 40 kgs, 80 kgs, 160 kgs, 320 kgs and 600 kgs along with sample dyeing machines of 2 kgs and 5 kgs.
Monga Strayfield RF Dryer
Dapang Korean Steam hot air dryer
Staffi Autoclave Bulking machine
TOW TO TOP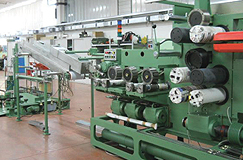 Stretch breakers from Seydel-Germany, Model 870

Rebreakers from NSC - France, Model R5A-GC15
SPINNING
Preparatory lines from NSC - France (modern machines like GC15, FMV32 etc.) including combers.
Ring Spinning frames from Zinse - Germany (RM 450 & 421 E model), San Marco - MH 21.
Autoconers Schlafhorst - Germany (Model AC-338 equipped with Loepfe EYC's) and Savio - Italy (model Orion equipped with Uster Quantum EYC's)
Latest Assembly Winders and Two for one Twisters (TFO's)
Latest Continuous Yarn Bulking machines Espero Volufil from Savio - Italy.
Hank to cone winding machines from Savio - Italy.
Fancy Hollow Spindle machines from saurer - Germany (ESP2 & ESP 3)


UTILITIES
EFFLUENT TREATMENT PLANT (ETP) FOR OUR WATER TREATMENT
THERMAX BOILER ETC.